For many years, Interface Devices and Unique Automation, LLC have collaborated to provide engineered automatic air and hydraulic holding systems to customers around the globe.
Based out of Palmyra, NY, Unique Automation's engineers and field technicians perform design, build and installations worldwide. Partners Charlie Schaufelberger and Joe Gerbig have a combined 80+ years of experience supplying their customers with unique motion control system solutions. "Anything that moves – from simple movement to complex, coordinated automation – we can control it," Schaufelberger says. The company has relied on IDI's products and engineering expertise for automotive, film and machine tool clamping applications, including high-pressure situations where the size of the clamps need to be as small as possible.
Unique Automation often utilizes IDI's air-driven liquid pumps in environments with high explosion potential where parts need to be secured reliably for long periods of time without generating heat. In one instance, there was a machining center where clamping needed to be maintained without the aid of any electricity. In another, a low-flow military valve needed to be tested in an explosion-proof environment at 6000 PSI.
A third example involved the machining of a fuel rail where the presence of electricity or the generation of a spark would have been deadly. IDI's air-driven pump allowed Unique Automation to provide that customer a reliable high-pressure, long-term holding solution without the introduction of electricity or heat.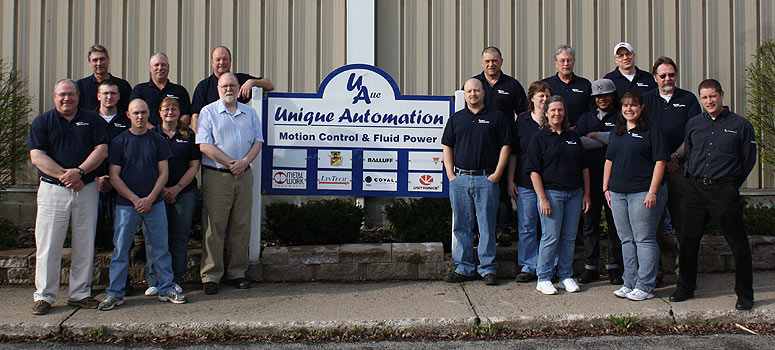 "Often, we contact IDI and let them know our application and what we need as the end result," says Schaufelberger. "Once the project is in IDI's hands, we are confident they will provide the ideal solution for each specific situation." Schaufelberger also notes that the size/footprint of the end product is always an issue, and "IDI is always adept at ensuring the smallest, most compact solution is chosen for each application."
Unique Automation also frequently specifies IDI's air amplifier in its MRO projects. A clamping system is initially designed with a holding force that is sufficient for the system's original functionality. But, with the passage of time or a change in usage, it is often determined that the actuator's capacity is no longer adequate. Instead of rebuilding the system or making extensive changes to make up for the undersized actuator, Unique Automation integrates one of IDI's air-to-air intensifiers to double the input pressure upon output, thus immediately doubling the clamping capacity.
"We know we can rely on the team at IDI to assist us with our projects involving clamping or workholding," Schaufelberger says. "Their recommendations are solid and their products are reliable. Plus, they are very easy to work with and have a customer-focused attitude. You can't ask for much more than that."